Hop on board for our Easter Day Trips!
The Easter holidays are upon us, as I'm sure you will have noticed from the aisles choc-full of Easter Eggs and various other sweet treats.
We've got some "egg-sellent" day trips by coach with something for all the family, for the young and the young at heart.
Chester Zoo
Saturday 8th April
Adults: £28.95*   Children: £23.95*
Chester Zoo cares for over 20,000 animals across 125 acres of award winning zoological gardens. See majestic Sumatran tigers, the beautiful Asian Elephants and the gangly Rothschild Giraffes and so much more!
During the Easter holidays, kids can join in with Play! dates with the zoo rangers! Join them for free for brilliant stories, amazing animal challenges and exciting adventures around the zoo. Come along with us to jump like a lemur, hop like a frog and join the fun with the Zoo Rangers!
Blackpool
Monday 10th April
Adults: £14.95   Children: £12.95
Blackpool is a town full of firsts: taller, faster rollercoasters, bigger clubs, even the biggest mirror ball in the world plus world-class shows, cosmopolitan restaurants, vibrant nightlife, an active sports scene and breathtakingly beautiful scenery on Blackpool's doorstep.
Blackpool is of course home to one of Britian's most iconic sites, the Blackpool Tower, which has starred in many films and tv shows including the recent blockbuster Miss Peregrine's Home for Peculiar Children. The tower was completed in 1894 and inspired by the Eiffel Tower in Paris and has long been home to many famous attractions, including the Blackpool Tower Ballroom, the Blackpool Tower Circus  and the spooky Blackpool Tower Dungeons. Looking for something a bit tamer? Why not pay a visit to Jungle Jim's, the UK's ultimate indoor adventure playground for kids.
Blackpool Pleasure Beach
Monday 10th April
Adults: £37.00* Children: £33.00*
Enjoy unlimited rides with your wristband for Blackpool Pleasure Beach – whether it's white knuckle roller coasters, the UK's only Nickelodeon Land, family fun or spectacular shows there's something for everyone at Britain's favourite amusement park. Will you be brave enough to go on The Big One?
Blackpool Sealife Centre
Monday 10th April
Adults: £26.00* Children: £23.00*
Why not take spend time in Blackpool Sealife Centre, showcasing more than 50 dazzling displays and home to more than 1,000 spectacular aquatic creatures including tropical sharks, colourful reef fish, turtles, rays and sea horses – Sea Life Blackpool is the perfect way to experience the wonders of underwater life without getting wet!
Cadbury World
Wednesday 12th April
Adults: £28.95* Children: £23.95*
Where better to visit at Easter than the home of the Dairy Milk, Cadbury World. Join us for a truly scrumptious day trip, where you will discover the history, the making and the magic of Cadbury confectionery through a variety of chocolatey zones.
You'll see the Cadbury World Demonstration staff showing off their chocolate making skills, and find out how your favourite Cadbury brands are made, including Creme Egg, Buttons and Roses, with interactive video stations.
What's more, Cadbury World are hosting family entertainment throughout the Easter holidays, with live shows and giggles for the whole family to enjoy.
There is so much more to this day choc-full of fun! Don't miss the delicious concoctions in the Cadbury Cafe, and take the time to pickup some treats to take home in the World's biggest Cadbury Shop!
City of York
Friday 14th April
Adults: £15.95 Children: £13.95
York is one of the most intriguing cities in England. A city layered with history, beauty and variety. Superbly preserved, York has witnessed more than 2000 years of vibrant history.
Charles M. Schulz once famously said "All you need is love. But a little chocolate now and then doesn't hurt." True words, and York's Chocolate Story is the perfect place to learn about the history of York's famous chocolate making families. Uncover a host of secrets and facts about some favourite guilty pleasures,  from the Chocolate Orange to the globally famous Kit Kat.
Throughout the Easter holidays children can immerse themselves in a chocolaty adventure with York's Chocolate Story. Taking place in the beautiful surroundings of the Merchant Adventurers' Hall; children will join Egbert on a quest to find his lost Easter eggs and defeat Sheldon the wicked stoat who is on a mission to steal Easter!
Alton Towers
 Saturday 15th April
Adults: £48.00*   Children: £45.00*
Unleash a torrent of fun at the UK's most famous Theme Park. There's a park full of rides and adventures for kids of all sizes and adrenalin addicted adults, it's an absolute must-do day out!
 The Alton Towers resort plays host to the world's first ever CBeebies Land, perfect for families with young children.
Featuring children's favourite characters and shows including Postman Pat, In the Night Garden, Tree Fu Tom and Charlie and Lola, the interactive and immersive new land will inspire learning through play.
If its more of an adrenaline rush you're looking for,  Alton Towers will not disappoint! Blast into another dimension on Galactica, rides the twists and turns of Nemesis and brace yourself for the awesome speeds of Rita, hitting 100kph in just 2.5 seconds!
Looking for something out of this world for lunch? Check out the Rollercoaster Retaurant, where your food will arrive by rollercoaster!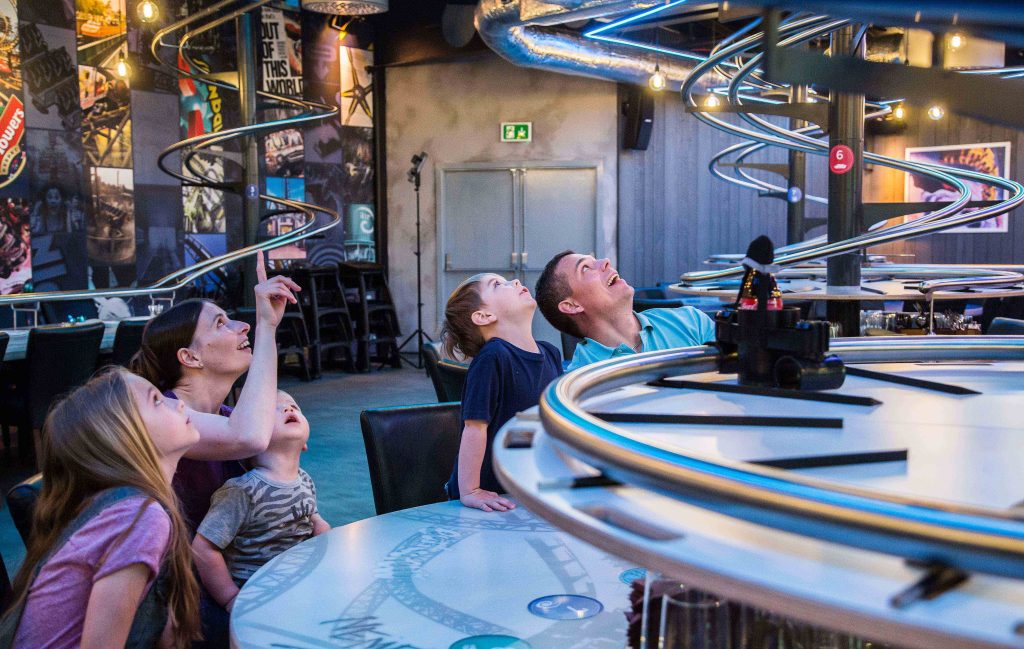 Book your seat on one of our Easter day trips today
Our sales phone lines is open Monday to Friday, 9:00 – 5:30 and our staff will be happy to answer any questions you have!
*Price includes admission to attraction