TfGM Bus Services
As a major service provider to the Transport for Greater Manchester (TfGM), Selwyns provide school bus services for home to school travel, resulting in a safe, reliable transport solution. We have one of the largest fleets of school buses in the North West and in particular in the Greater Manchester area.
Bus Services
Below are the services we operate as part of our TfGM school services.
371
Kingsway School – Stockport PM ONLY
374
Hazel Grove High School – Stockport
700
Dane Bank – Fairfield For Girls AM ONLY
721
Little Hulton – Loreto College
740
Outwood Primary – King David
741
Altrincham Interchange – King David School
752
Stockport – Loreto Grammar School
753
Burnage – Altrincham GSFB
756
Lostock Shops – Altrincham GSFB/GSFG
757
Woodsend Circle – Altrincham GSFB/GSFG
758
Stretford Mall – Altrincham GSFB x2
759
Wythenshawe, Asda – Loreto Grammer
726
Stockport – Loreto Grammar School
763
Heaton Moor, Tithe Barn RD – St. Ambrose College
775
Altrincham College of Arts – Bowdon Vale PM ONLY
781
Withington – Sale Grammar
807
St James High School – Heaviley, Corbar Rd PM ONLY
808
Lane Ends – Marple Hall School
811
Cheadle Heath, Farmers Arms – St James RC High School
815
Hazel Grove – St. James's RC High School AM ONLY
818
Bramhall Green – Cheadle RC Infants and Junior School AM ONLY
827
Wellington Rd South – Hazel Grove High School AM ONLY
838
Rose Hill – St. Mary's RC Primary School
843
Reddish – Harrytown RC High School and Cheadle & Marple College PM ONLY
844
Hall Street/Turncroft Lane – Marple Hall School PM ONLY
869
Werneth High School – Brinington PM ONLY
900
Stockport Acedmey – Bridge Hall Primary PM ONLY
Bus running late? Stay informed. Opt into our text message service!
Our text message service will inform you of an estimated arrival time if your bus is running 10 or more minutes late.
If you'd like to opt in, please email your mobile phone number to busservices@selwyns.co.uk.
You can unsubscribe from this service at any time.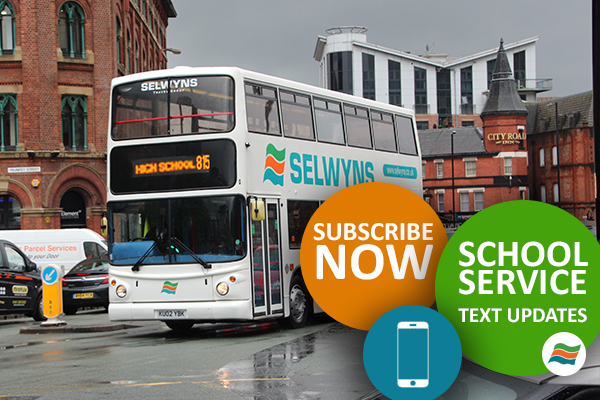 Contact details
If you have any feedback or comments about the Selwyns bus service, please email busservices@selwyns.co.uk